Testimonials
Read some of the comments made by our previous happy clients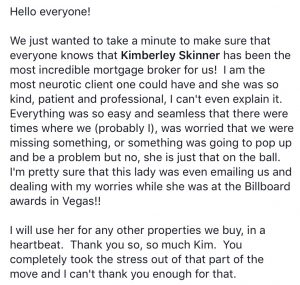 The Milnes
I have a few weeks under my belt now with the mortgage. and so far no issues with the payment and managing the bills. The weekly payroll and weekly mortgage it's a walk in the park lol. Thanks Kim for following up. I really appreciate you putting in the time and helping me out. You're awesome 😎
CM
I was extremely satisfied with the mortgage service I received from Kim. My file was quite complex and involved numerous barriers to closing the purchase. Kim was relentless in her efforts to find me a mortgage that worked for my situation. She spent several long days analyzing the options to secure a good mortgage for me. She was always very quick to reply to my questions and was very flexible when I had to contact her at various hours of the day. I would recommend Kim to anyone. She cares about her clients and truly wants to help you. A big thank you Kim!
Jody H
Oct 2018
Thank you so much for looking into things for me. There's a lot to learn in this whole process and I appreciate that you've been so present and assisting. I won't hesitate to contact you on mine or someone else's behalf.
Thank you so much,
C.F.
As first time home buyers this whole process was scary and confusing. Kim was so incredibly helpful and took the time to answer each and every question, even for questions that should have been for the realtor or lawyer instead of her. We can't recommend her enough!!!
B & M Harrison
Thanks again for all your effort in securing a great mortgage for us.
It has always been a pleasant experience.
Regards,
Jim and Barbara
Kim was highly recommended to us, and even then we would say she was undersold. She was amazing from start to finish in our buying process. She never saw anything as a barrier, and worked so efficiently and smoothly with our tight timeline. Kim treated us like family, and worked so hard for us. We will not hesitate to use her again or recommend her to friends and family!
Kayleigh and Dan
January 2018
"Kim was everything we could ask for and more from a mortgage broker. Her knowledge, patience and transparency allowed us to navigate smoothly through the financing process and avoid any unnecessary complications. We couldn't be happier with our experience!"
Andy and Britni
Kim,
With your patience and understanding, you made ours lives a lot less stressful.
Finance of Buying/Sell house is such a major part of relocating a family. We appreciate your efforts to help us through the process and ensure no steps were missed.
Thank you so much
Michael and Melony
June 2017
Living in the US and getting transferred back to Canada we felt the whole mortgage process would be easier using a Mortgage Broker than a bank.  Am I ever happy we did.
Kim was always available to answer questions for us, promptly returning emails, even when on a family vacation.  She researched different options and gave us suggestions on what would suit our needs as well as finding us an incredibly low rate.  We really feel she cares, unlike banks where you are just an application number.
For any future mortgage needs we will be contacting Kim again and highly recommend her to anyone looking for a mortgage.
Marilyn & Steve.