Testimonials
Read some of the comments made by our previous happy clients
Kim was referred to us by a friend. She was quick and efficient  and made the entire process easy to understand!  She was quick to respond to any inquiries and always was able to provide us with an answer! We would definitely work with Kim again given the opportunity and would highly recommend her!
Amanda and Jimmy Marchand
Kimberley Skinner proved herself an incredibly helpful and knowledgeable broker. She took what felt like an incredibly complicated home purchase involving the sale of multiple homes for a single purchase, with multiple owners, lawyers and real estate agents, from two different provinces with very different real estate rules, bridge financing, gift letters, and a host of other nuances, and not only made sure I navigated this real estate minefield successfully, but also with the best rates available for both the mortgage and the bridge loan. She went above and beyond repeatedly checking in for lower rates, and ensuring we didn't miss any crucial financing steps during the sale. I've used Kim's services on two occasions now and would highly recommend her to anyone looking for a broker.
We are very pleased with the assistance that we have received from Kim. We have bought and sold a few homes over the years and Kim is always our go to girl. Her professionalism and knowledge assures us that we are making, not only the right decision, but also the one that works best for our situation.  Kim is fast, accurate and up to date with the info she provides. Money and mortgages is not our strong suit, but when we put our worries and concerns in the hands of Kim, we can rest assured that with her guidance it will all work out well. We could not do it without her. We have referred her to several family and friends and  highly recommend you give her a chance as well. You will not be disappointed.
The Boswells
Kim provided fast and clear answers to all my questions, she demonstrated her thorough knowledge of the process, she was attentive to my needs at every step of the process, and she ensured that I obtained the best available rate for my mortgage.
Thank you again for your help!
July 2020
I would like to extend a huge thank you for providing excellent support and advice in these unusual, challenging times.
Without your expertise and patience, our purchase could have been a financial disaster. With the pre-approval and the information provided by your app, we were able to house-hunt with confidence. When our house sale collapsed, you were there with creative solutions. And of course, your end results were outstanding.
Thank you again – you deserve 15+ stars just for your encouragement, professionalism, and knowing you were always working for us!
Valerie and Ted Ryan
The service and personal attention we received from Kim Skinner was exceptional and beyond what we were expecting! Her commitment in finding us the best rate helped us in our search for our new home. As moving back to Canada from the United States can be stressful, Kim ensured that our mortgage experience was hassle free! One of the most important things we wanted was someone we could trust. She was always available to answer questions and put our minds at ease every step of the way, no matter the time of day. We are glad we chose her services and would recommend Kim to anyone buying a home. Having had some negative experiences in the past dealing directly with banks, I would not consider working with anyone else for a mortgage. Period!
Craig and Paula Neary
May 2020
When life beat you hard and you need to move across the country and keep getting denied financing for a home mortgage, stop your headaches and ask Kimberley !
I was injured during my military services, my wife had to leave her job to accompany me to all my medical appointment and take care of our son at home because we couldn't afford a new mortgage and move back home after my military release. We contacted Kimberley and she did the magic trick with the number so the bank accepted to loan us a new mortgage across the country where all our friends and family live.
If you need a new mortgage for whatever the reason, ask Kimberley and she will get you the best 🙂
John and Joany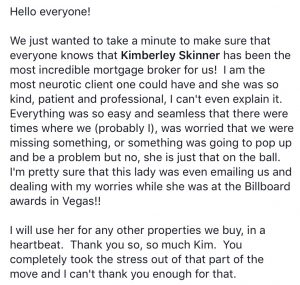 The Milnes
I have a few weeks under my belt now with the mortgage. and so far no issues with the payment and managing the bills. The weekly payroll and weekly mortgage it's a walk in the park lol. Thanks Kim for following up. I really appreciate you putting in the time and helping me out. You're awesome 😎
CM
I was extremely satisfied with the mortgage service I received from Kim. My file was quite complex and involved numerous barriers to closing the purchase. Kim was relentless in her efforts to find me a mortgage that worked for my situation. She spent several long days analyzing the options to secure a good mortgage for me. She was always very quick to reply to my questions and was very flexible when I had to contact her at various hours of the day. I would recommend Kim to anyone. She cares about her clients and truly wants to help you. A big thank you Kim!
Jody H